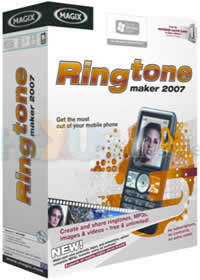 MAGIX Ringtone Maker 2.0.1.3 Silver
With MAGIX Ringtone Maker 2 you can transfer all kinds of unique ringtones to your mobile phone for free.Whether it 's your favorite song, personal recordings, or quirky fun sounds and effects. Over 350 sounds, pictures & videos included.
Details:
* Video ringtones
* Polyphonic ringtones
* Wallpaper & logo support
* Title Editor
* Effects
* MAGIX Remix Agent 2.0
* Updated list of compatible mobile phones
* New import and export formats: BMP, JPG, Real, WMV, MIDI, and much more.
NEW! Video ringtones
Look who's calling! The brand new ringtone generation adds life to your mobile phone's display. Simply create video ringtones from any picture, film or sound material and easily manage it all with MAGIX Video Selector on your Symbian mobile phone.Allocate specific video ringtones to friends and acquaintances: See who you're about to talk to. With the MAGIX Ringtone Maker 2 every incoming call becomes an impressive visual and acoustic highlight.
Download Link:
http://rapidshare.com/files/49164238/MAGIX_Ringtone_Maker_2.0.1.3_Silver_by_ewares.org.rar